TuT on how to Use UPI (Unified payment Interface)
UPI App (Unified payment Interface) launched by RBI and National Payment Corporation of India, is rolled out by individual Banks/Wallets and not by RBI or NPCI.
To help India go Cashless, UPI is a new solution by NPCI to simplify the process of online transactions in India.
Let's understand how it affect the following:
Consumers
Merchants (online sellers)
In its current state, it will make (People 2 People) P2P transfers super easy. You can transfer money Instantly without any charges to a upper limit of 1 lac.
UPI avoids the troublesome adding beneficiary for account transfers. No need to get the Bank A/c number, IFSC code etc from the person to whom you want to transfer money. The other benefit is no need to share your account details, (any body with the account number and IFSC could deposit money to your account without you knowing it, at any branch).
Under UPI you just need to share your Virtual Payment Address (VPA). You can Send as well as Collect Money from some one by using the VPA. Here are some easy steps you need to follow:
Download UPI app from participating banks here.
Let's use AXIS bank's UPI App as it has better UI compared to others. 
the process is as follows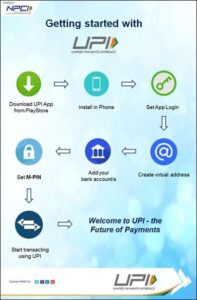 People Using Dual SIM Phone
Remove the Other SIM ( Mobile No) which is not registered with the Bank
Insert the Registered Mobile No's SIM in SIM 1 Slot
Enable Data on the SIM (Data Service is Required for Authentication)
Connect to WiFi and download the AXIS UPI APP (you can do it using 3G/4G but will take a lot of time on 2G)
Disconnect the WiFi. ( Not Necessary but I find this way things do not mess up )
Here's the welcome screen. Scroll through the tabs till you get the "START". SMS will be sent for authentication. 
Enter a Name "My Bank" or "Bank AC" or "DeMo", check the agree box, Enter the 6 Digit PIN, this pin is required only when you login to the APP.
Click "Start"
Click the "Menu" on the Top Left to get the screen below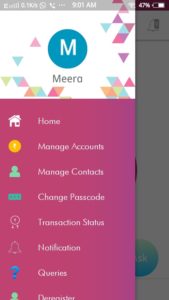 Click Manage Accounts to get the screen below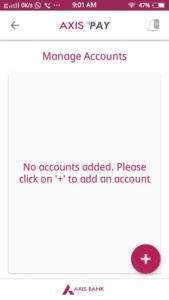 Click (+) to get to the screen below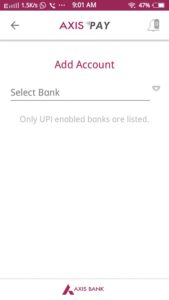 Select the Bank and the next screen will get your account number from the bank automatically (based on your mobile number linked with your bank a/c)
BANK with UPI
Today only fewer banks are part of the UPI. But this will change in a months time, I assume. 
Create a Virtual Payment Address (VPA) which can be prashant@axisbank or younamewifename@axisbank or pkc@icici or any other name. The suffix will be based on the app you are using. You can create have different VPA with different banks pointing to the same account i.e prashant@axis, prashant@ubi or prashant@vijaya can point to one bank a/c say from PNB.
Virtual Payment Address (VPA)
It does not matter what you VPA is tsk@axisbank or tsk@icici because the VPA is linked to the A/C at the Bank. hence payment and receipts will be debited and credited to you bank A/C
You will be asked to enter the OTP and MPIN, Enter the OTP received and the MPIN is 4 Digit, this PIN is like your ATM PIN. remember this, you will require this PIN to send Money to other VPA