While Managing a SME Business, Managing IT resources is critical and must be cost-effective, When People Leave organisation, what is to be done to their official Email Id.. If you allow it to continue then you end up paying for these dead account to Gmail..? Easy way out is Backup these Account and then Delete the Account.  The backup can be kept on your server for as long as per your company policy and later deleted.
Backing up the IMAP Email..? using POP is one way but then if you are using IMAP.. please follow the following.
Gmail emails are the hardest thing to download properly. Google's other services let you download a file directly from the associated website, but Gmail requires an email application that supports IMAP. We'll use Mozilla Thunderbird here. Gmail Backup, which we've covered in the past, is another option.
Step 1: In Gmail settings, click over to the Forwarding and POP/IMAP tab and ensure that IMAP is enabled. You'll also want to disable folder size limits – otherwise, Thunderbird won't see all your Gmail messages.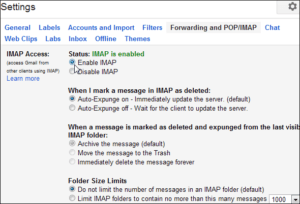 Step 2: Launch Thunderbird and add your Gmail account (work for people using Google Email Service for your Domain). Thunderbird automatically detects and provides the appropriate settings for Gmail, so you don't have to enter them manually.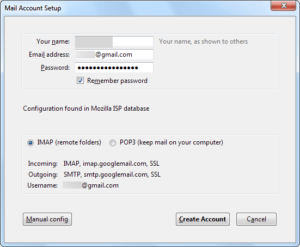 Step 3: You will be taken to Gmail Login and Confirm "Allow"
IMAP isn't meant for doing full backups, so Thunderbird won't automatically download all email messages and their attachments by default.
We can use Thunderbird's Configuration Editor window to tweak some internal settings and transform Thunderbird into a proper IMAP backup application (Got these instruction from Internet; Chris Hoffman; dt 2012)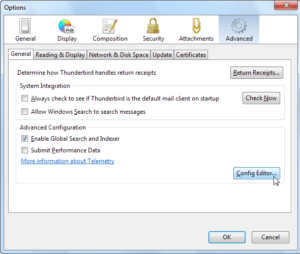 Step 3.1 Set the preference "mail.server.default.mime_parts_on_demand" to False
Thunderbird will now download all email attachments. If you can't locate this preference using the Filter box, you can create it by right-clicking in the window and creating a new boolean preference.

Step 3.2 Set "mail.check_all_imap_folders_for_new" and set it to true. Thunderbird will now download messages from outside your inbox ie all labels.
Step 3.3 Set "mail.imap.use_status_for_biff" to false. Thunderbird will now always check each label for new messages.
Step 3.4 Check if "mail.server.default.autosync_offline_stores" is set to true, or Thunderbird delay's downloading of emails until you go offline.
Step 4: Click "Get Email" or "Get Message" in Thunderbird.. It will take a while if you have many emails..
Pls note this can be used for your regular accounts also for backup.. but I do not see Google Server Failing or Data Crash at Gmail Servers.. but anyways.. Thunderbird automatically updates your local backup each time you open it.
EDIT: Look Like there is an App GMVAULT I have not used it..